7/25/2015
---

For more information, click here
---
Attention! NRA memberships:
Those looking to join or current NRA members who wish to renew can click on the "Join NRA" image above.
Doing so will directly benefit the MRRA.
---
The MRRA Spring Newsletter is Now available for download.
Click Here

---
MRRA 2015 MEETING SCHEDULE
August 29, 2015 - 3:30 PM Board Meeting, MRC, St. Francis, MN.
December 5, 2015 - 10:00 AM Board Meeting, 12:30 PM Membership Meeting, Strikes Entertainment Center.
Stars and Strikes
Entertainment Center
5063 273rd Street Wyoming MN 55092
651-462-6000
www.starsstrikes.com
All members are invited to attend the Board of Directors Meetings.
---
Steve Knutson will be hosting a winter smallbore league for 2014/2015.
Program

---
The Fall MRRA Newsletter is ready for download.
2014 Fall Newsletter

---
George Minerich will be hosting a winter Highpower League for 2014/2015.
Program

---
The Long Rangers Precision Shooting Club is sponsoring the State Air Gun Standing Championship
Program

---
The Minnesota Rifle and Revolver Association wishes to congratulate the following Minnesota Junior Shooters for receiving first round invitations to the 2014 National Junior Olympic Rifle Championships (JORC) to be held in April at the US Olympic Training Center in Colorado Springs, CO.

In Women's Smallbore Rifle, Samantha Peterson, Abby West, and Carmen Fry. In Men's Smallbore Rifle, Eric Hazelton and Patrick Sunderman. In Women's Air Rifle, Abby West, Elizabeth Ewert, Samantha Peterson, and Grace Taschuk. And in Men's Air Rifle, Luke Taschuk, and Patrick Sunderman.

Congratulations to all the above Junior Shooters for their accomplishment on Qualifying.

Any Minnesota Juniors receiving 2nd round invites will be posted once 2nd round invites are released.
---
President George Minerich has passed on this copy of the first MRRA State Championship from 1932.

Downloadable Copy

---
This cast of characters is the 2013 State Association Match Rifle National Champion Team.
The Rumbold Match was fired on Monday (8/5/2013) @ Camp Perry OH.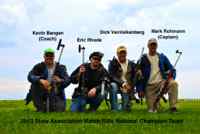 ---
MN Juniors compete at the Junior Olympic Championships, April 2013 at the Olympic Training Center in Colorado Springs.
Elizabeth Ewert, Shelby Sandstrom, Carmen Fry, Abby West
(Left to Right)
Missing from the picture is Samantha Peterson.
---
Five Juniors Represent Minnesota at 2012 National Junior Olympic Rifle Championships.
---
I've republished 3 articles written by Larry Sawyer for the MRRA Newsletter.
Reprinted with the gracious permission of Larry Sawyer.

Successful Standing | Successful Standing (Part 2) | Top 3 Prone Mistakes
---
An open invitation to international competitors from President George Minerich.
Invitition

66kb
---
New Minnesota Smallbore Prone Aggregate Championship!
More Information Here
---
MRRA is proud to announce the addition of official MRRA Merchandise.
Support the MRRA with your purchase. Promote MRRA by wearing it.
NEW MRRA Merchandise page
---
---
I've added a link to CAPT'N BOB'S BIG GLOSSARY OF HIGH POWER SHOOTIN' TERMS to the "About Shooting" Page.
Webmasters Note: I'm looking for a member who would like to contribute a brief synopsis on Pistol and/or Smallbore shooting to add to the "About Shooting" page. Anyone interested can contact me at webmaster@mrra.org. Heck, I'll even give you full credit!
---
Please note: All downloads with the

icon are in PDF format and require Adobe Acrobat Reader.
For a free download of the latest version Click Here!
---